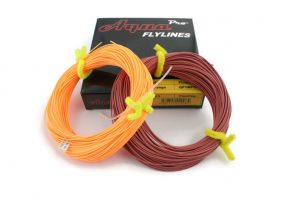 Fly Lines buy one get one FREE!

Continuing innovation in fly line technology has enabled AquaPro to deliver a range of product that not only represents excellent value for money, but also delivers performance to the highest standard with many new features such as Arrow Slick Coating, Poly Vinyl Technology and a Dynamic Braid Core.
AquaPro fly lines cast further, offering better presentation that helps you to become a better angler.
ARROW SLICK COATING is a specially formulated coating using technological advancements in fly line technology. ASC reduces friction enabling the line to cast more freely gaining more distance, offering better presentation and enabling pin-point accuracy.
DYNAMIC BRAID CORE technology correctly matches the stretch and strength of the core to the fly line weight and profile. This results in Dynamic Braid Core giving smoother casting control and better hook sets, which results in a much more responsive fly line.
POLY VINYL TECHNOLOGY enables a smoother turnover of the fly line creating a softer landing on the surface of the water, which in turn gives an enhanced presentation of the fly.