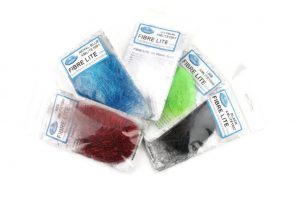 Fibre-Lite are 20cm fibres of 15 denier, highly reflective pearlescent tinsel. It is an extremely mobile material, making it ideal for streamer wings and tails, even on the largest of saltwater and pike flies.
By blending several colours together, subtle and interesting combinations can be made. The mobility will compliment soft furs and feathers such as Arctic Fox and marabou and offer life and movement to stiffer materials such as calf and bucktail.
Fibre-Lite is also an excellent dubbing material and can be dubbed directly onto the thread or twisted into a dubbing loop. Chop the strands into small pieces and dub directly onto the fly to make a reflective hotspot, or blend with natural fur to create a more subtle effect with just a hint of flash. Perfect for nymphs and bugs to give that little bit extra.